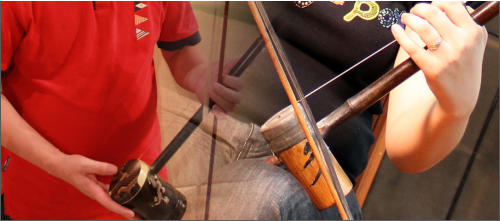 These four are different types of Hu fiddles.
Not as popular as ErHu, but they all are
essential fiddles.
JingHu
JingHu is heavily used in the Peking Opera. It's the
highest pitched Hu fiddle in the HuQin family.
ZhongHu
A new type of HuQin designed as the counterpart of the Viola
in the Chinese Orchestra in the 20th century.
GaoHu
Another member of the HuQin family, with a higher pitch scale.
BanHu
A memeber of the Chinese HuQin family. The soundbox is
made of wood, hence a different sound character than other
Hu fiddles.
All four Chinee fiddles have been carefully sampled and
designed to provide the musicians with special legato
playability and as the result, an easier ways to do live
performance or live take.
System requirements and specs:
90 MB(JingHu), 226 MB(ZhongHu), 197 MB(GaoHu), 150 MB(BanHu) meticulously
produced sample sets.
Powered by brand-new QIN RV engine.
Windows XP/VISTA/Windows 7. 2GB RAM.
32/64 bit VST host sequencers compatible.
Compatible with FXpansion RTAS Adapter
All samples are recorded in 1-bit/5.6 MHz.

CHINEE JingHu
CHINEE ZhongHu
Chinee GaoHu
Chinee BanHu




Kong Audio Present The First Complete Chinese Orchestra Library.